Welcome!
Well, the big event has come and gone. Molly and McKenzie were officially welcomed into this world at 9:41 and 9:43am respectively on November 17, 2008. Molly weighed in at 6 pounds 13 ounces and McKenzie was 5 pounds 11 ounces. Here's a pic of the whole fam (note my cool hat!)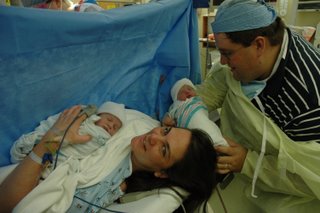 Here are the two girls together just before they left the delivery room.
Molly had some breathing issues and went to the NICU. She's going to be there for a few days while the doctors treat her for possible pneumonia. Here's a picture of her blowing some bubbles for the camera:
Finally, I got to do my first diaper change. Many, many people criticized me and said it did not count since it had no poop in it. Too bad haters! It counts! Here's me and McKenzie right after the successful change:
So, that's where we are. We'll be at Erlanger for a few more days if anyone wants to come and visit. Room 5039 at Erlanger Downtown!