A Better Day
So, day 2 of the home experiment kicked off today and things went well. Our popsicle maintained her temperature pretty well all day. The key to success is keeping your house at around 87 degrees. It's shorts and t-shirt weather around here. My electric bill is going to be huge!
So, a few more pictures so everyone can see what has been going on. First, some of our visitors came back to town for the weekend, namely "Pops" John and aunt Jamie from Maryville. Here is Pops feeding McKenzie.
G-daddy and Gigi also stopped by after church to see McKenzie at the house.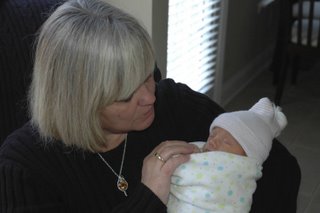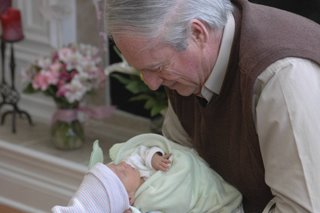 McKenzie also got to enjoy her first bath today. I'm kinda confused as to how this counted as a bath because she was pretty much fully surrounded and enveloped inside 6 different blankets. But, Lindsey tells me that since water and soap touched some part of her body, it counts as a bath. So there...
Lindsey and I got to go to the NICU at Erlanger and see Molly again this afternoon. She was visited earlier by John and Sue. While they were there, Molly got taken off of her oxygen for the first time since she was born. 
She looks like she is doing great. The doctors won't commit to a date yet to when she will get to come home. She'll be done with her antibiotics on Tuesday but everything has to be perfect before she gets to leave.
Here's a picture of her without ANYTHING on her face. (Yay!)
Both Lindsey and I got to hold her this time. The NICU really tries to limit overstimulating the babies as much as possible so they can conserve energy to get better. Lindsey had held her a few times but this was my first chance since in the delivery room on Monday.
This is mommy and Molly after a bottle.
And here I am trying my best not to make her cry. (I succeeded, cause I'm just that good...)
So, that's the latest update from our neck of the woods. McKenzie has her first pediatrician visit with Dr. Jeanie tomorrow morning. Let's hope that her weight is going up and everything else is fine. We'll visit with Molly again and see just how well she's doing. Til next time...