Finally Home
So, we've finally made it home with everyone! Even Molly! The discharge from the NICU was relatively painless. They made us watch a few videos on Infant CPR, how to use a car seat, and on shaken baby syndrome. Let me tell you, these were high quality productions. The car seat video especially was awesome. It was made in the late 80's and feature crash test videos of old Volvo station wagons with unrestrained kids in the wayback seats. Yeah, the cool rear-facing seats.
So, that took an hour. Then the nurse told us that the NICU policy was that mom had to ride in a wheelchair to the hospital exit. Now, our other child was carried from the hospital in her car seat just a few days earlier from a unit just outside the doors of the NICU. But, that's policy and policy trumps all. I left before they found a wheelchair cause I was going a bit stir crazy just trying to escape from the hospital. It's Thanksgiving morning! 
Anyway, we finally escaped and made our way home with Molly. Molly and McKenzie were allowed to get re-acquainted with one another on the couch.
After their photo shoot was over, my mother-in-law made us a fabulous Thanksgiving dinner with turkey, dressing, mashed potatoes and sweet potatoes, bing cherry salad, and a bunch of other stuff. My parents came over to help us eat all the food. It was nice.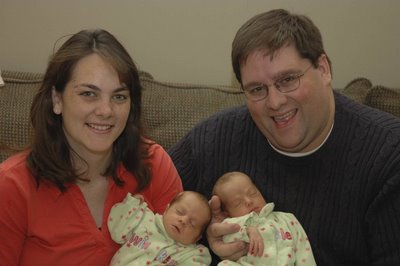 Late this evening, my father-in-law and sister-in-law (with boyfriend) showed up after their day of family fun in Maryville. We took a lot more pictures and everyone got to hang out with both girls for the first time.
We did discover one odd fact though. Molly has one attached earlobe and one detached. Most people are either attached or detached; she's both! Apparently, her aunt Jamie is similarly afflicted. 
Tomorrow, we have Molly's first pediatrician appointment and McKenzie gets a weight check. Then we have another big dinner planned for my father-in-law's birthday. Yay! 
Here are a few more pictures to tide you all over until you can see the girls in person. I'd say that they are pretty cute but I'm biased.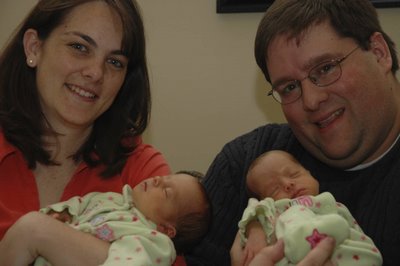 And now, it's time for bed...
Happy Thanksgiving!