Photo Updates
Some photo updates from the last couple of weeks. Things have been fairly slow around the house and that is certainly a good thing. The girls have decided that they don't like to sleep at night very much anymore, especially Molly. We (Molly and myself) saw 4am together Friday night/Saturday morning. Fun fun and more fun.
So, on to the photos. The first couple of pictures are from tummy time and working on our head control. Here's McKenzie working on keeping her head up.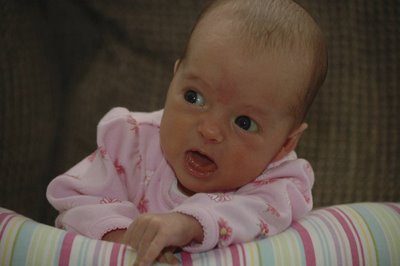 And now we have Molly doing the same thing. Mom didn't get a very good picture of this...
Next, we have both girls enjoying their playset. They seem to be starting to figure out that their hands are attached to their bodies and they can do stuff with them. McKenzie can repeatedly punch the giraffe on her bouncy seat. Now, if she knows what she's doing is an entirely separate question.
Last, we have a few pictures of the girls getting ready for their first Christmas Party. Our Sunday School class party was Friday night and the girls got to come with us. Here we are with a new friend.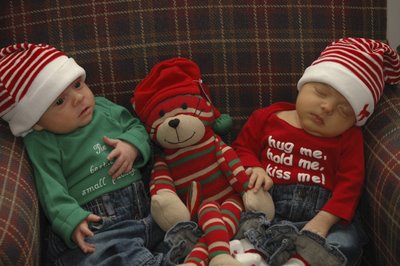 And now we're not so sure we want to go to the party anymore. Sleep...sleep...sleep...and cry...