Thanksgiving Feasts!
So, it's been a few days since I posted an update. I've been chastised by a number of folks via Facebook, email, and in person so I am relenting to you and posting an update!
What is there to say? Since our last update, the Maryville contingent of John, Jamie, and Les came down to visit for the weekend. Friday morning we had Molly's first pediatrician appointment. McKenzie tagged along as well just to get her weight checked. She gained 9 ounces since Monday and now weighs 5 pounds 14 ounces. Here's a picture of Molly getting stripped down prior to Dr. Stephanie examining her.
John's 55th birthday was also on Friday so we had another big dinner just for him. Sue fixed ham and scalloped potato casserole. We also had a squash and zucchini casserole that Jamie fixed, fruit salad, bread, etc. My parents and my brother and his wife came over as well.
The girls didn't enjoy any of the food but they provided entertainment by allowing us to put them in their bouncy seats and see how they reacted. Neither one really noticed the music but they both disliked the vibrating function. Pained expressions all around.
Saturday morning, our friends Jenny, Carrie, and Holly from Maryville came down to visit with the girls. They got to check out the nursery and help feed and change the girls. I'm sure they enjoyed every second of that. We sure did appreciate their visit.
Also on Saturday, we did Thanksgiving with my mom's side of the family. My aunt and uncle Ron and Linda from South Carolina were there as were Tim and Liz and Brynn from Knoxville and my grandmother and her husband Bill. The Maryville clan came over as well and enjoyed our "traditional" Thanksgiving dinner of prime rib. That's my kind of meal.
We ended up only staying 3 or 4 hours. We're finding that it's tough with 2 little ones. They get worn out with all the holding and passing and it wears us out just to be around a bunch of other people. I'm glad we got to see everyone though!
Lindsey's folks left from there and went back to Maryville. So, it was our very first night home alone with just us and the girls. It seems that we all survived fairly well without any big problems. Here's a picture of the girls zonked out on the couch just before their last feeding for the night.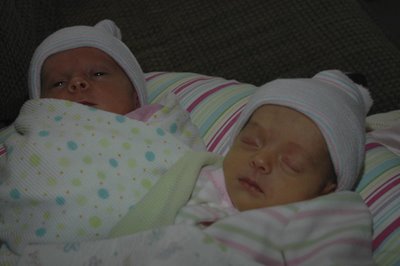 On Sunday, we just lounged around the house. Our friend Gordon stopped by briefly to bring us a gift card for Outback. He reminded me that they do takeout. I'm sure that will come in handy over the next few weeks. Thanks Gordon and Susan!
Right now, I'm all alone with the girls. Lindsey has left to go to Target and the grocery store. Everyone seems to be happy and that makes me happy. We're settling into this whole baby routine a little bit. We'll see how that goes over the next few weeks!