Weekend Update
So, it's been another week since our last update. Here is what has been going on.
Amazingly, no doctor appointments this week for either of the girls. That's a good thing cause sitting around the hospital or the doctor's office is not much fun at all. Instead, we got to spend the week hanging out, going to visit with new people, and even on a sleepover with the grandparents.
On Thursday evening, the Chattanooga Moms of Multiples had their bi-annual consignment sale. We went and took the girls hoping to find some good deals on clothes since the girls seem to be growing like weeds these days. We found a couple of outfits but really not much. We did get some new toys and books, including a Fisher Price train for $8 that retails for $42. Lindsey was very happy about that.
This weekend is mine and Lindsey's wedding anniversary. Can't believe that it has already been 6 years but here we are. So, to celebrate, we sent the girls to my parent's house Friday night for a sleepover. We ended up staying for dinner and then put the girls down before coming home. Sleeping in on Saturday morning was awesome though. It's very nice not having to worry about crying or feedings early in the morning.
Lindsey and I spent our time cleaning around the house and doing yard work. Lots of fun. We certainly know how to party. Apparently, the girls had a good time with their grandparents and didn't cause too much trouble. I guess they're invited back to stay again some day.
Sunday morning, the girls got to wear some new outfits and spent some quality time on their tummies. They are both doing really well now with their head control and keeping themselves supported. Here are a few pictures we took of them looking cool...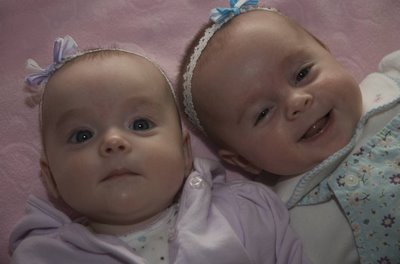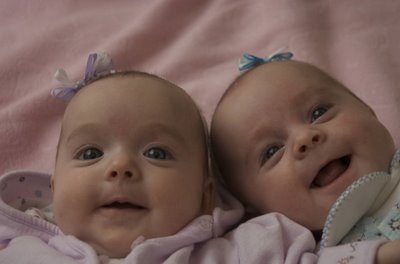 On Sunday afternoon, we took a family picnic down at the Tennessee Riverpark for our actual anniversary. The girls seemed to enjoy themselves even though it was kind of windy. Molly didn't like it when it blew in her face.
Here's a couple of pics of us with the girls at the park.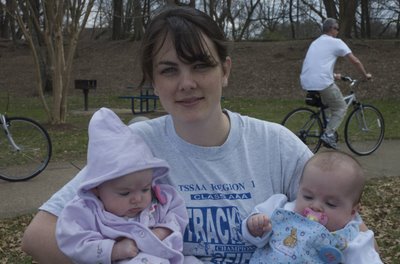 On Sunday night, Molly and McKenzie got to take baths. We took a quick video of Molly enjoying her bath.
That's it for now. We still have a few weeks until more doctor's appointments and our trip to Birmingham.