And the date is...
April 22nd. My baby is having brain surgery on April 22nd in Birmingham.
Yay.
We'll be meeting with the doctor on April 21st and doing our pre-admission stuff. As of right now we are the first surgical case for the day so we will have to be there at 5:30am (!) to get ready for surgery. As long as everything, we'll be on our way home on Thursday the 23rd. Sounds like a fun plan doesn't it?
So, let's take a look at why we're doing this. As I said yesterday, McKenzie had an MRI done and that is how they determined that there was indeed a cyst growing in her ventricle. Here's an image from the MRI.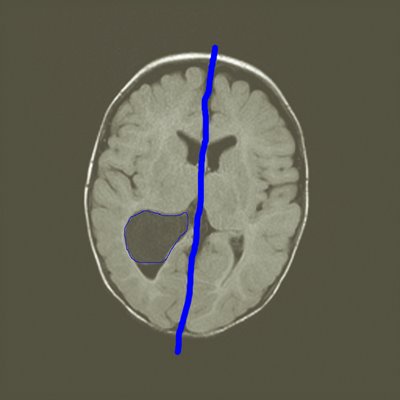 Here we can see McKenzie's brain. The blue line is down the center of the brain. The left and right sides of the brain are supposed to be mirror images of each other. Obviously, one thing is not like the other.
The cyst is on the left side outlined in blue. If you look closely, you can see that it's kind of a grey, fuzzy area. The dark black below the cyst is the normal fluid that is supposed to be in the ventricle. On the right side, you can see the normal sized ventricle.
So, that's what they are going after. We're still working on our plans in terms of travel and stuff but we'll let you know if we need anything. We appreciate the support from our family and friends so far and ask that you continue to think about us and pray for McKenzie as the surgery date gets closer.
Labels: birmingham, dr oakes, mckenzie, surgery