Finally Time for an Update
So, it's been a few months since the last real update. I guess it's time to give everyone a run down of what has been going on since the first of July. So, here we go...
In the middle of July, we went on vacation to Boone, NC with Lindsey's parents and some of their friends from California. The weather could not have been much better for the trip. We left the 96 degree weather in Chattanooga and hit the mid-70's weather in the NC mountains. It was awesome. We had a great cabin where we stayed with lots of room for us all. Somehow we never made it to the downstairs area where the air hockey and ping pong were. We just had too much else to do.
The view from the Moses Cone Memorial Park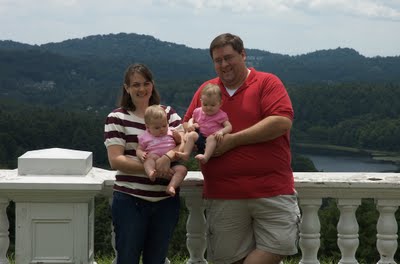 Molly and McKenzie enjoying the sun at a winery. Don't worry, they were the DD's...
Molly and McKenzie taking flight in Blowing Rock on a perfect fall-like day.
Our last day on vacation...
The girls enjoyed hanging out with everyone and seeing the sights with the rest of us. We drove home on the Blue Ridge Parkway. Beautiful drive but make sure you have ALL DAY to do it. It took us 7 hours to go almost 200 miles. It was a poor decision but we made it home around midnight and the girls weren't terribly upset.
After we returned from North Carolina, the girls were exhausted. Here's McKenzie trying to recover while playing.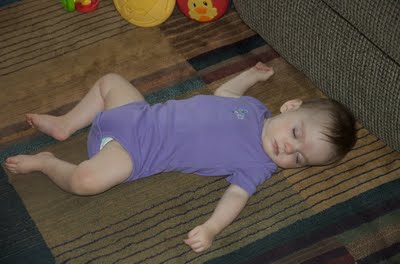 One new addition to our home also made an appearance after we got back from North Carolina. That would be a gate. The girls are getting much more mobile and are moving around the house a lot easier these days. So, we decided to try and keep them out of the kitchen and just keep most of the other doors in the house closed. Here's a picture of the unhappy prisoners.
Now, the astute viewers out there will notice something new in this picture...other than the gate...
Who can tell me what it is? Anybody?
Yeah, that's a picture of Molly standing. She started pulling to stand right towards the end of July. Now that Molly is standing a bit, she was free to learn some new skills. Here's just one example...
We have to be careful where we leave stuff now. Molly also has an affinity for chewing on the computer power cord. That's already cost us a new adapter for the computer. And no, before anyone asks, she did not chew through the cable nor was there ever any risk of her getting a shock. I'm not sure how she actually killed it but it wouldn't work after she had it in her mouth for about 20 seconds.
As part of their new-found mobility, Molly and McKenzie have been able to get into more trouble than before. Here's one recent example of the havoc they unleashed on their nursery in about 3 minutes.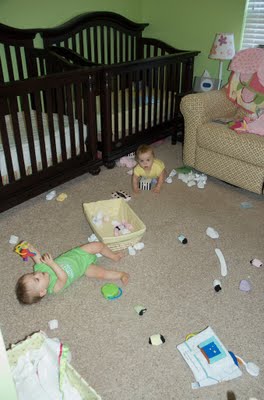 Molly was pretty happy with herself...
McKenzie tried to play all sweet and innocent...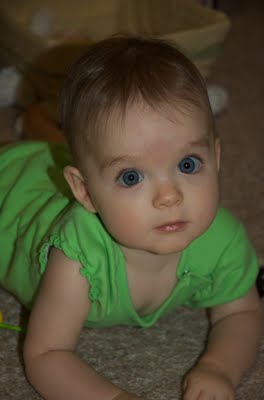 Yeah, not that innocent...
The girls had their 9-month pediatrician visit towards the end of August. Both Molly and McKenzie are almost exactly the same in height and head circumference. The place where they're different is in weight. Molly weighed in at 20 pounds 4 ounces while McKenzie managed 17 pounds 4 ounces. Only a three pound difference between the two. Everything else checked out well for both of them. Now we just have flu shots coming up shortly. Yay!
We attempted a photo shoot a few weeks back with the girls outside. Only problem was that they were more interested in eating the leaves and grass than posing pretty. We got a few good shots.
They got better when we went inside...
The next weekend was Camp Horizon. The girls decided to get all festive and dress for the occasion.
Labor Day weekend we all went to Maryville to be with Lindsey's family. Aunt Jamie came down from Chicago for the occasion. Got to go to the UT game on Saturday as well. Lots of fun, especially since they won.
Here are a couple of more pictures and then we're done...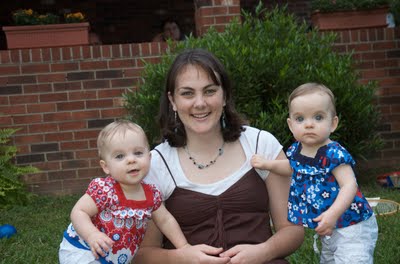 Alright, so massive update and now we're done. I hope everyone enjoys everything. I'll post some more pictures and maybe even some videos in the next few days. This should tide you over until then...
Labels: camp horizon, dr jeanie, labor day, mckenzie, molly